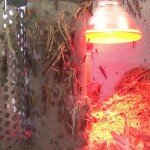 Your life has a CO2-footprint – but what about your death?
Your death is your last CO2 footprint – but how big? Watch "Dying Eco-Friendly" here.
The story is among a series of news of current affairs stories, produced by the International TV Class at the Danish School of Media and Journalism – related to the GEJI program.
You can also watch stories about an island going really CO2 neutral.
About eco-tourism in Norway. There are news about traffic and noise pollution.
And about eating bugs to replace red meat. See the entire list here.