Plummeting milk prices sent dairy farmers protesting in the streets in Brussels and Berlin last month, but research studies on climate change show that modifying the production of beef and dairy may be more helpful for the future.
BY ANNE SHIFLEY, June 15, 2009
| | |
| --- | --- |
| | Listen to Otto talking about: |
BRAUNAU, Germany— Otto Schöneweis works between 70 and 100 hours on his dairy farm each week but is not seeing the fruits of his labor. Soon, he will have to let go one of the two workers who help milk the farm's 54 cows twice daily.
Global economic recession has left dairy farmers in shock as milk prices fell to €0.20 in May, half of what they say is needed to make a profit. Germany is the largest dairy producing country in the EU, according to the Commission for Agriculture and Rural Development. Germany's estimated 100,000 dairy farmers make up 20% of the EU market, and trouble for them foreshadows trouble elsewhere.

Schöneweis (L) and Nicoli, one of his farmhands, share the evening workload at the barn. Schöneweis worries that he will have to relieve one of his two workers soon because of financial difficulties. ©Shifley 2009
Following a demonstration of some 6.000 farmers in Berlin last month, the German government agreed to tax cuts that would knock about €0.15/litre off diesel fuel for farmers.
But Schöneweis says cutting production costs is not the solution to
farmers' current plight. "This will not help a lot [of] the dairy farmers," he says. "This will help the average of dairy farmers about 300-500 euros a year, but it is very helpful for the big cereal farmers. This could never be the solution for the dairy farmers."
Questioning the quota
Schöneweis is an active member of the Association of Dairy Farmers (Bundesverband Deutscher Milchviehhalter) and opposes the termination of the EU's milk quota, which is slated for 2015. Instead, Schöneweis supports a flexible milk quota that would target the demand for milk as a way of strengthening the dairy sector.
"If the [consumption] of milk is increasing then we could be allowed to produce a little bit more," says Schöneweis. "But if the [consumption] of the milk is going down, then absolutely it is necessary for us to reduce production, to avoid overproduction."
The end of milk quotas in the future would most certainly result in overproduction, according to Schöneweis, as farmers would no longer be fined for exceeding a production limit. And greater milk production requires more imports of grain, corn and other livestock foodstuffs. Schöneweis worries that the unnecessary import of products that can be grown domestically is wasteful and reckless in the face of climate change.
Cows and climate concerns
Schöneweis is not alone in his concern that the relationship between increased milk production and increased food imports will adversely effect climate change. Some, however, are looking at the bigger picture of the agricultural industry.
Jørgen Olesen, a research professor, of Agricultural Sciences at the University of Århus, Denmark, confirms that farming is one of largest contributors to climate change on a global scale. Numerous international research reports support estimates that 20 to 30 percent of global greenhouse gas emissions are accounted for by agriculture.
"Most comes from livestock farming because livestock are the primary consumers of grains and crops, and cattle emit methane," says Olesen.
In the natural process of fermentation during digestion, cattle's' stomachs release large amounts of methane (CH4) in the form of burps and farts. Agricultural production also results in emissions of several other greenhouse gases, including carbon dioxide (CO2) and nitrous oxide (N2O), Olesen says. Methane and nitrous oxide are 23 and 296 times more powerful greenhouse gases than CO2.
In "Cool Farming," a report published by Green Peace last year, dairy farming produced the second largest share of manure. The report claims that "higher energy feed produces manure with more decomposable organic matter that may emit more greenhouse gases (GHG) depending on surrounding environmental conditions."
The report also raises concerns that the dairy sector requires one of the highest energy levels in agriculture because of the processes involved in pasteurization, cheese-making and dried milk, as well as the refrigeration required throughout transport.
Studies documented in the report showed that producing lamb and beef requires between four and ten times more grain than producing pigs or chicken due to grain and forage consumption.
Reports like these conducted by Green Peace International have led other independent organizations and institutions to insist that the consumption of less meat and lower productions in the dairy sector will reduce greenhouse gas emissions that are causing climate change.
Foodwatch, an independent German organization focused on protecting consumer interests and food quality, also advocates for agriculture to be part of the climate change policies in Germany and the EU. Martin Rücker, lead press officer for Foodwatch, says that agriculture's effect on climate is nearly as high as the climate effect of the transportation sector.
"That should be reason enough to include it in climate change policy," says Rücker. "In Germany that has not yet happened. Basically, climate change policy is still restricted to environmental, transportation construction and industry policy."
A peripheral problem
The question of what to do with information about the meat and dairy industry's influence on climate change factors is tricky. It is difficult to popularize support for actions to reduce the effects of climate change when the alarming effects won't be observable for years down the line.
"Most people experience very little relationship between greenhouse gas emissions, climate change and their everyday life," says Professor Olesen. "There is both a temporal and spatial separation between emissions and impacts of climate change."
Furthermore, not all farmers are as concerned with the environment as Schöneweis. Some are just trying to make ends meet this month.
Dr. Rudolf Schmidt, head of the milk department at the German Farmers' Association (Deutscher Bauernverband) attended a meeting of dairy farmers last week in Chicago. He says that the whole dairy industry is looking for a global sustainable dairy industry, "but at the same time, I can't see where to change things on the farm."
Schmidt says the agricultural sector is interested in conducting its own analysis of data regarding the industry's effects on climate change before pursuing specific changes.
"Because of the stomach of cows there's not much to do. But we [dairy farmers] have to face it – we're quite open to [taking responsibility for the effects of agriculture], not only the negative but the positive aspects too."
Jump-starting change
Olesen acknowledges the difficulty in inspiring change from within the industry.
"Farmers say 'we are having a difficult time,'" he admits. "But so is everyone. Climate change is such an urgent issue – if we're to combat climate change and the effects it has, we need to do it now."
While reducing energy consumption is another way to diminish the effects of climate change, Olesen says it also takes a significant amount of time to see a difference there, whereas changes in the agriculture sector could make changes happen much faster.
But Olesen does put the whole burden on farmers: "It's not just farmers responsible – it's also consumers because they have large role to play in what comes out of agriculture."
Consumer studies show a preference for meat over veggies and bread and the Food and Agriculture Organization of the UN (FAO) indicates that milk production in Asian developing countries increased more than four times from 1961 to 2004. The trends are expected to continue "a relatively long time," according to FAO.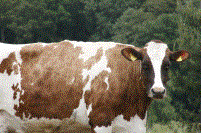 Schöneweis says this cow, called "Number 105" as indicated by her ear tag, is his best milker. She has bred numerous daughters and granddaughters and is expected to produce her 100,000 liters of milk this year.
©Shifley 2009
Opportunity for improvement
While the task of restructuring the agricultural sector in such a way to minimize effects on climate change seems daunting, it may very well be worth the trouble.
"Things we can do now to extend profitability of farming would reduce greenhouse gas emissions," Olesen says. "In the longer term it will benefit farmers and also society."
Soils deteriorate and are less fertile when they lose organic matter. For this reason, Olesen says farming could do itself a favor by having higher carbon content in soil: more soil fertility means higher crop yields. Specifically, conversion of forests to agriculture and the cultivation wetlands can lead to large emissions of CO2 and N2O.
"Farmers can improve productivity per unit of feed by simply having better diets for cattle and higher yields of milk and meat," Olesen says. "It's one of the few things we can do now to take carbon out of the atmosphere and do something to combat climate change."
Higher yields of milk per cow can also reduce the greenhouse gas Methane. Methane has a short atmospheric lifespan and often comes from ruminant animals, such as cattle. Simply having a smaller number of ruminant animals reduces methane that escapes during the digestive process through burps and flatulence.
In the meantime, the farmers are sitting tight. For Schmidt of the German Farmers' Association (Deutscher Bauernverband), drop in the demand for milk is a more pressing problem worldwide. Schmidt says the agricultural industry is hoping for further economic stimulus plans and that milk consumption in East Asia (especially India and China) continues to increase the global market.
Pioneering new milk products also provides some hope for the dairy industry. "We believe we have to go for innovative production – not just butter and skim milk powder, but to look for different items in milk i.e. medicines – things to add value to our product to get out of the milk crisis," says Schmidt. "It's not going to solve the problem but it's one way to create a better market place for dairy farmers in the future."