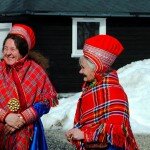 If the Arctic is considered the world's barometer for measuring climate change, then the Sami are at its mercury. For centuries the Sami have lived a nomadic life, prospering from herding reindeer across the Arctic wilderness. But recent development and a rapidly changing climate have broken the equilibrium – it is at risk of melting away.
Take a tour with Geji student Joel Tozer.
The story also appeared as a print version, in The Ecologist.